Bitwave Games reduced 92% of time spent on influencer management by using Lurkit
Challenge
Since being founded in 2013, Bitwave, formerly known as Retroid Interactive, has focused on self-publishing two in-house developed games, and they just released a big update to their flagship title Wunderling.

Dealing with many inbound game requests from influencers daily, Bitwave was looking for a platform that could reduce the many hours of manual work they had to spend on replying to requests. By comparing a wide range of services, the company looked for something to help them automate a time-consuming yet essential part of their marketing strategy.
"Lurkit allows us to spend more time on other marketing-related matters. The automated system is brilliant."
Bitwave Games, formerly known as Retroid Interactive, is a Swedish "Modern Retro" indie game studio and publisher based in Gothenburg – the warm heart of a northern Kingdom.


Headquarters
Gothenburg, Sweden
Founded
2013
Headcount
~25
Solution
Bitwave found it necessary to have a dedicated platform for distributing games and assets to influencers. Manually handling requests is time-consuming, but Lurkit solved this through campaign automation and an easy-to-use UI.
For Bitwave, Lurkit's main purpose is influencer management and game distribution. However, with the launch of Wunderling DX, their team is taking advantage of Lurkit's influencer research tools to get a deeper level of targeting of influencers who reach their audience.
Results
What originally took around an hour a day, or 5 hours per week, can now be done in a matter of minutes. Bitwave reports a 92% reduction in time spent with increased returns in their influencer marketing efforts. Not having to manually distribute keys, contact influencers, and vet every request allows the Bitwave team to focus on other parts of their community, social media, and marketing plans.
"As a Swedish company, Lurkit felt like the obvious choice for us when we were on the lookout for a new game and asset distribution platform. It's locally developed, easy to use, and powerful".
Powerful Support and Automation
For Bitwave, Lurkit's automation features make the platform a must-have for their team. Bitwave has complete control over the influencer verification process and can set up its requirements differently for each campaign based on average viewers and follower metrics. Once set up, influencers who meet their threshold are automatically approved and then have content begin to flow in shortly after.
In addition, the platform continues to grow and change based on the needs of its clients. Attentive account managers, easy contact methods, short response times, and great support are some things that Bitwave values highly,
"Lurkit's customer service is great! We're glad to get quick answers to our questions without drowning in email threads"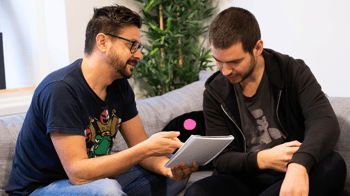 Niklas and Olof from the Bitwave team
Synergy
Learn how other publishers and studios leverage Lurkit's services to increase reach, awareness, and sales while at the same time reducing their operational costs for their marketing and PR teams.