Playwing achieved 12x return on ad spend with Lurkit
Challenge
Launching a game in a competitive genre is no small feat. However, Playwing was ready to take on the challenge with their 40 employee Bordeaux studio. With one successful launch already under their belt, the Playwing team dove into the world of influencer marketing as the primary strategy for promoting their new title Century: Age of Ashes - a multiplayer dragon battle game. However, it was not long before managing all of the creators, content, and other factors became a challenge to handle. With a marketing team consisting of four, they sought out options for services that would help them grow their most important marketing channel.
Playwing needed an efficient platform that allowed them to manage all of their creators without scaling their team. They needed something that would expand their visibility, provide analytical data, and manage all incoming requests professionally. With Century: Age of Ashes being a competitive game that relies on an active player base, they wanted to focus on generating as much streaming and video content from influencers as possible to enable a healthy conversion funnel and grow a strong community. With it being an already tough market to breach, they needed a tool to help them break through successfully.
"Lurkit allowed our team to support our game's launch effortlessly and still proves to this day the most efficient approach to Influencer Marketing we've taken."

Playwing is a self-publishing studio focused on multiplayer, crossplatform and crossplay games.


Headquarters
Bordeaux, France
Founded
2017
Headcount
~40
Solution
Lurkit added a professional approach to Playwing's influencer management strategy and helped increase the marketing team's productivity. Identifying and reaching out to creators required hours of time, often without the desired results. Their team needed a platform that allowed them to use a data-driven approach and manage their influencer funnel efficiently. With Lurkit, Playwing was now able to distribute games and assets specifically targeted at prospective influencers based on the influencer's previous game data.
As a handy tool for tracking organic growth and campaigns, Lurkit has opened the door to meaningful KPIs that show the impact of their team's marketing actions. Lurkit continues to be a positive resource that benefits the growth of Century: Age of Ashes and the targeted focus helped the title breach into a successful launch.
Results
Playwing gains full control of their inbound influencer management and can ensure that their game is in the hands of influencers relevant to their target audience. Influencers who come to their campaigns from organic sources can now be verified using Lurkit's data, and Playwing can easily see who is producing what kinds of content. Results started to show shortly after implementing the platform and growth followed shortly after.

The initial campaign launched on Lurkit reported a ROAS of $12.07. Further, the day 3 and day 7 retention remains among the top ranges for their influencer marketing campaigns. Lurkit acts as a powerful CRM tool that lets Playwing save time and get an overview of their influencer funnel. The numbers have far exceeded their expectations, and with results like this, Lurkit earns its place among their marketing toolset.
"We also went for Lurkit because the tool can efficiently track KPIs that are meaningful for our game's growth and help us shape our marketing campaigns around that data."
A Community of Dragon Fans
Playwing's team has an impressive background in social media marketing and community management for several massive multiplayer titles in the past. With this knowledge, they knew that long-lasting community engagement was a huge part of successfully launching their title into the world of PvP games.
Playwing built a system to curate content for the creators who engage the most with their title. Lurkit acts as a gear within this system and helps them facilitate the collection of creator content and analytics, allowing them to work closely with their community and act on feedback quickly.
"The goal was to use a multipotent tool that would become a pillar of our influencer campaigns, by identifying and reaching out to community champions and more content creators."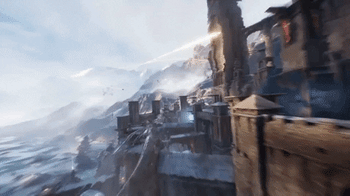 Footage from Century: Age of Ashes
Staying On Top
Playwing plans to have two approaches to keep growing their community moving forward. The first approach is to run campaigns throughout the year when they release new content. By using Lurkit, they can identify and reach out to influencers of all sizes and tiers, allowing them to keep an active awareness of their game.
The second is by continuously working with ambassadors. The team can plan a community-focused approach and build a lasting give and take relationship with their influencers. Rather than just having a simple campaign launch, Playwing builds long-term relationships with their game's ambassadors to create a more in-tune experience for their target audience as the game develops. Lurkit will continue to be a pivotal partner to Playwing as they experience great returns from the platform. With their community in hand, Lurkit helps make their efforts more time-efficient.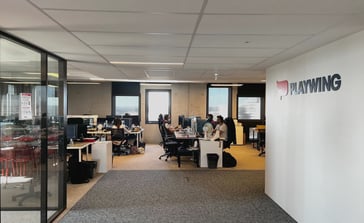 The Playwing Century Team
Synergy
Learn how other publishers and studios leverage Lurkit's services to increase reach, awareness, and sales while at the same time reducing their operational costs for their marketing and PR teams.