Terahard uses Lurkit to create hype for their game release
Challenge
After successfully aiding in launching and developing over 40 games, including a handful that they have published themselves, Terahard is in early development of their co-op game BADA Space Station. They needed a solution which allowed them to get both feedback on game mechanics as well as creating awareness and hype for the title while they're developing and preparing for release.
"Working with Lurkit and Daniel has been amazing, and we believe Lurkit is an extremely helpful tool for all game developers out there looking to study their engagements with gaming creators around the world!"
About Terahard
Terahard Studios is a game company that was established in 2012. It has two studios based in London, UK and Athens, Greece.

Terahard's purpose is to create outstanding games and gamified apps that will always push the barriers that people are used to today. Terahard comprises software engineers and technical artists who strive to create games that stand out from the masses. They work on self-published titles, and also do work with other institutions.
Headquarters
London, UK
Founded
2012
Company size
20
Solution
Terahard wanted to create a great game while also simultaneously building a strong, organic community. They decided to join Lurkit, seeing the platform as "a perfect fit" for their vision with their upcoming co-op title "BADA Space Station".
Results
Utilizing Lurkit, Terahard streamlines and optimizes their prospecting, community management and social media engagement. They used to manually search through content platforms to attempt to stay up to date with their community, a very time-consuming task for their marketing team. Using Lurkit Insights with quick filters, Terahard gets all the data they need to engage with content creators to drive organic growth seamlessly.
"Lurkit is this user-friendly tool that allows game developers and content creators to maximize their work, partnerships and collaborations amongst themselves. In an attempt to streamline our livestream events and community growth, we partnered up with Lurkit to help us find willing and professional creatives to test our alpha build alongside our devs!"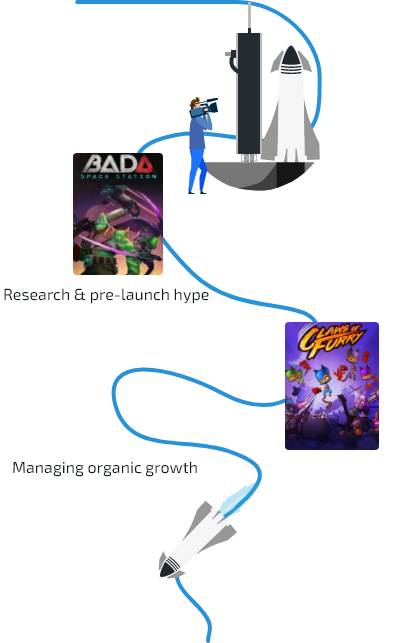 Building a strong organic community
Using Lurkit, Terahard decided to start promoting the game to content creators and their audiences long before launch, and quickly started seeing the benefits on multiple levels. Leveraging the depth of data and the ability to automate research, prospecting and previously manual campaign work, Terahard set up a pre-launch campaign that promised top streamers and YouTubers extra incentive to create content about the game in the form of special perks and exclusives. Some examples include:
Dedicated Discord group roles
Top Streamers will be able to name an NPC in the game
Terahard features content creators on their socials regularly
In-game credits and rewards
By incentivizing creators to create content and engaging with them, Terahard increases their organic exposure and gets a lot of valuable feedback about gameplay and bugs at a crucial stage of the game's development.
Example of community engagement for Bada Space Station
Saving time by optimizing the workflow
Working with the Lurkit team, Terahard quickly set up a great workflow for monitoring their organic traction. By using Lurkit's content creator analytics, they use quick filters to get an easy overview of which creators they should put their time into engaging with on a daily basis. Instead of manually reviewing and scouting, they can now identify and work with more and better content creators with less time spent than before.

"And since we with Lurkit can seamlessly see every content creator who has streamed the game, we can also use this as leverage, so we create a preset filter, so every day with a push of a button we get an overview on who streamed our game."
Taking control of the launch hype
Terahard instantly noticed the effects of working with creators in a more organized way. They are currently building their portfolio of creators they will be working with when BADA Space Station is ready for retail launch. By utilizing Creator Lists on Lurkit, they gather all of their community heroes into a single list that they use to distribute their games to with a single click.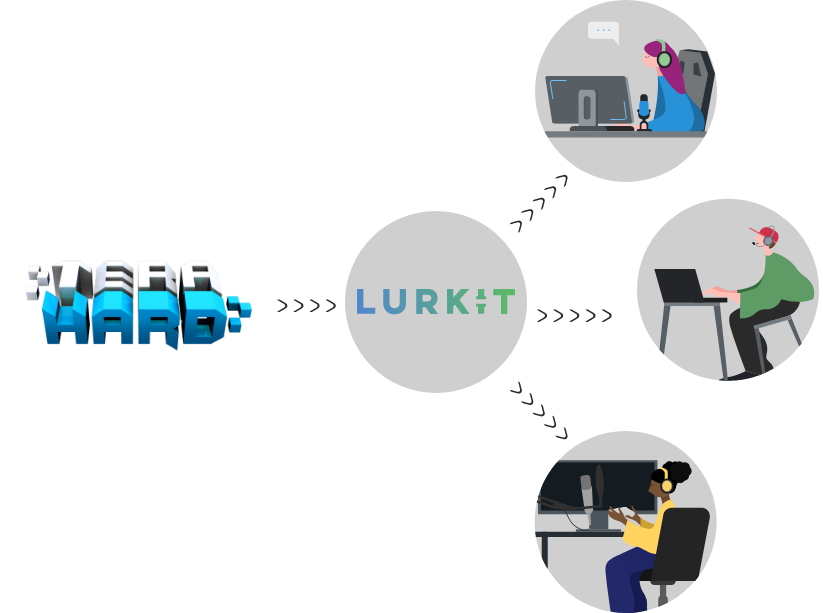 Synergy
Learn how other publishers and studios leverage Lurkit's services to increase reach, awareness, and sales while at the same time reducing their operational costs for their marketing and PR teams.