Versus Evil Opens The Gateway To Their Community With Lurkit
Challenge
Versus Evil is known for its dedicated creator programs, a wide variety of released titles, and impactful creative strategies. Having released a wide range of great indie titles over the years, their team was looking for a new way to scale their influencer marketing efforts. With game key and asset distribution to content creators at the core of their marketing strategy, this created a problem that needed to be solved.

For Versus Evil, prospecting and monitoring content creators and distributing keys and assets required multiple software platforms and many hours invested. They would manually search for each creator, and their team would watch a ton of content to find qualified content creators for their next campaign. Further, verifying every request required even more time as not all creators would be using keys to produce content for their campaign.
"Without question, the main value of Lurkit for us is the powerful toolset it provides for our business. Not only is crucial KPI data available at our fingertips, but it also better connects us to our community as a whole."

Versus Evil is an independent video game publisher whose main focus is working with talented independent game developers to help them launch unique, creative and groundbreaking video games across all platforms. The company's philosophy centers on building a partnership, giving development teams the level of support they want, offering advice when needed and working in tandem to maintain a brand's true identity.
Headquarters
Colorado, USA
Founded
2013
Solution
Versus Evil began using Lurkit, and quickly found that the platform started to address several concerns through easy solutions. Lurkit's data generation, influencer filters, and automated campaigns positioned Versus Evil in a place where they could market their titles more effectively. After a few months of practice with the platform, Lurkit became Versus Evil's one-stop-shop for influencer marketing needs.

Lurkit has changed the game for Versus Evil when it comes to creator monitoring on an international scale. The platform has allowed them to identify creators playing their games in key regions and cross-reference the users with target demographics. Versus Evil needed a way to search through data, creator management, and filtering out key requests for the most relevant options. Lurkit quickly became a valuable tool in the Versus Evil arsenal filling all three needs and ensuring the right influencers get the right games.
Results
For Versus Evil, the creator management options and data components are two sides of the same coin. Access to creators, tons of data, and campaign performance all in one place help them collect the data needed to showcase organic and paid growth. For example, when Versus Evil first launched First Class Trouble with Lurkit, they ran a two-week-long paid campaign alongside the standard launch. The goal was exposure. However, they quickly realized that organic creators were pulling better numbers than the paid influencers during the same period. Access to this data allowed them to spot this difference and has had a massive impact on Versus Evil's marketing perceptions.

Through the time it saves from overall creator work to distributing keys, Lurkit has been an asset to Versus Evil. In-depth investigation options mean that content creators can be screened for those who will benefit brand perception and align with their audience. In addition, deep data and smooth creator prospecting lets Versus Evil make educated decisions on where to spend their time and resources within a campaign.

Versus Evil's most significant result with Lurkit is how it streamlines their influencer process as a whole.. While quality distribution, access to analytics, and other features are helpful, the ease of access has had a major impact. For example, Versus Evil's Community Lead & Influencer Relations Manager estimates roughly 60% less time spent on their key and asset distribution process alone. Most of it comes from a much-improved process of managing inbound requests through Lurkit, allowing them to instead reach out to 100s of creators weekly without draining time.
"The distribution process has been a huge lifesaver. We used to have countless messages a day, but now we can distribute keys to the influencers who can have the greatest impact."
Example of content creators playing First Class Trouble
A Powerful Platform To Grow With
Lurkit has allowed Versus Evil to introduce more creators to their games. Influencers have found out about Versus Evil through the platform, and the tools that they have access to are powerful. Account Managers at Lurkit have outlined how the platform can meet their needs and make the job easier for Versus Evil. With new influencers flowing into campaigns, new features coming to Lurkit every quarter, and the opportunities available through the platform Versus Evil has seen a chance to do things they can't do on other similar services.
Reaping the Benefits of Data
Campaign performance analytics help Versus Evil evaluate the impact of their marketing campaigns. They can easily view how Lurkit helps their community engage with titles, continuously promoting their extensive portfolio of high-quality games long after their initial launch. Additionally, Versus Evil can compare previous launches with new launches allowing them to target their promotions more effectively when updating previous releases later on.
Versus Evil can prioritize new updates towards influencers who are still playing the game and current game ambassadors. This allows creators access to new content in advance and brings new audiences into the Versus Evil pipeline. Their fans grow in numbers and gain access to new content faster through these prioritized influencers. In addition to audience recruitment, new influencers in other regions become accessible as they can easily spot creators who generate millions in viewer hours because of Lurkit's data - something they previously weren't aware of.
"Lurkit is the gateway to our community, connecting us with players in ways other services could not."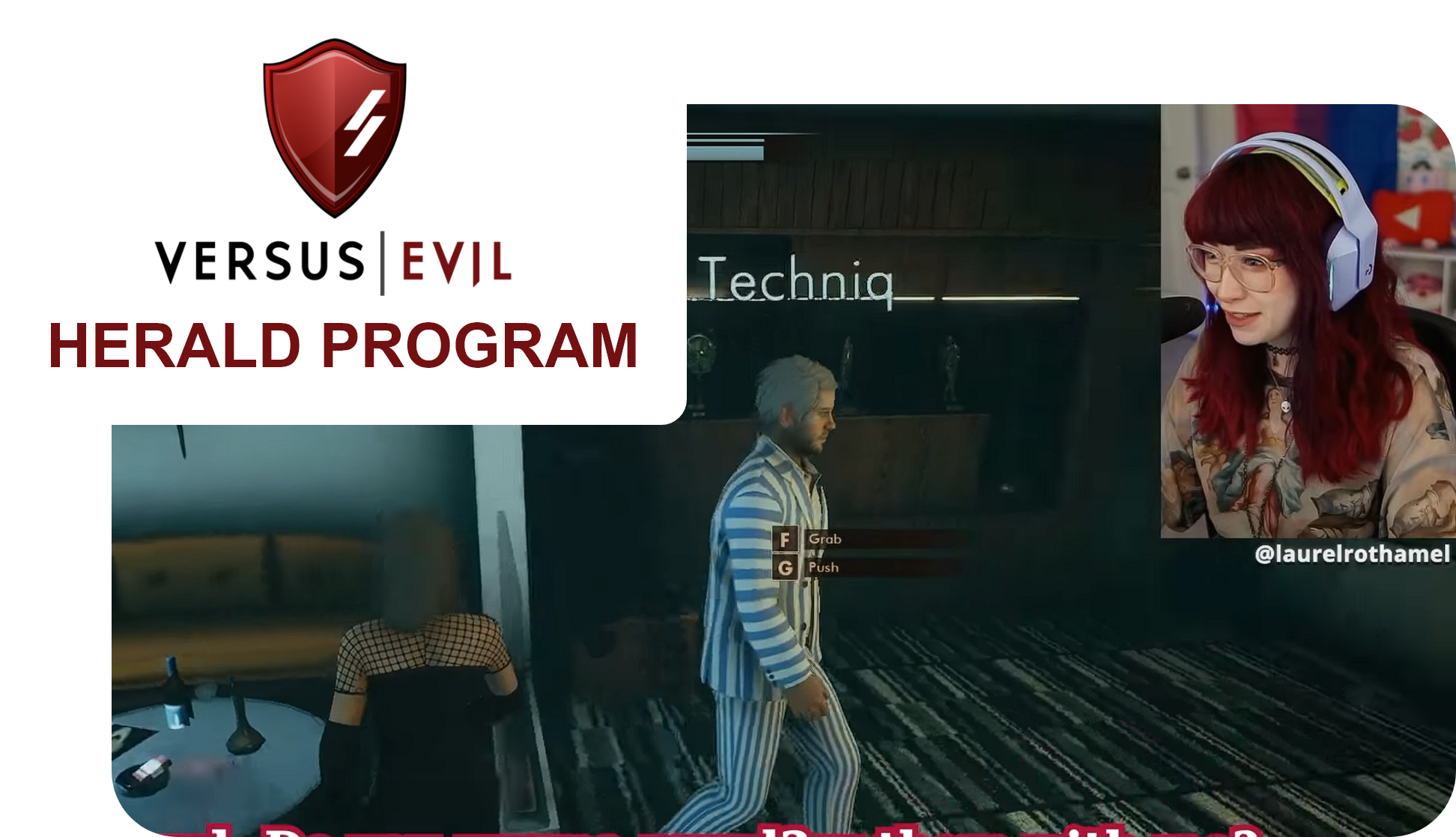 Versus Evil works with content creators of all sizes, enrolling creators that fit their brand in their Herald Program as long as they have above 10 CCV and a minimum of 250 followers.
Growing A Creator Community
After learning how Lurkit can help creators grow, Versus Evil has begun sharing the platform with their community. As a rule, they attempt to include creators of all sizes in their influencer communication efforts and plans. Small creators are just as valuable as more prominent influencers to their team, and they believe in building solid relationships with their creator audience. They encourage their community to go to Lurkit and experience the platform and their users report back positive experiences to their team.
During the Versus Evil Herald (Versus Evil's creator program) workshops released quarterly, they present how streamers and YouTubers can benefit from using Lurkit. By introducing the platform to creators, reinforcing their core influencer teams through the platform, and taking advantage of Lurkit's features, Versus Evil has created a healthy growth environment. For Versus Evil, Lurkit is more than just a key distribution service. Lurkit is a powerful tool for their marketing team and influencer partners.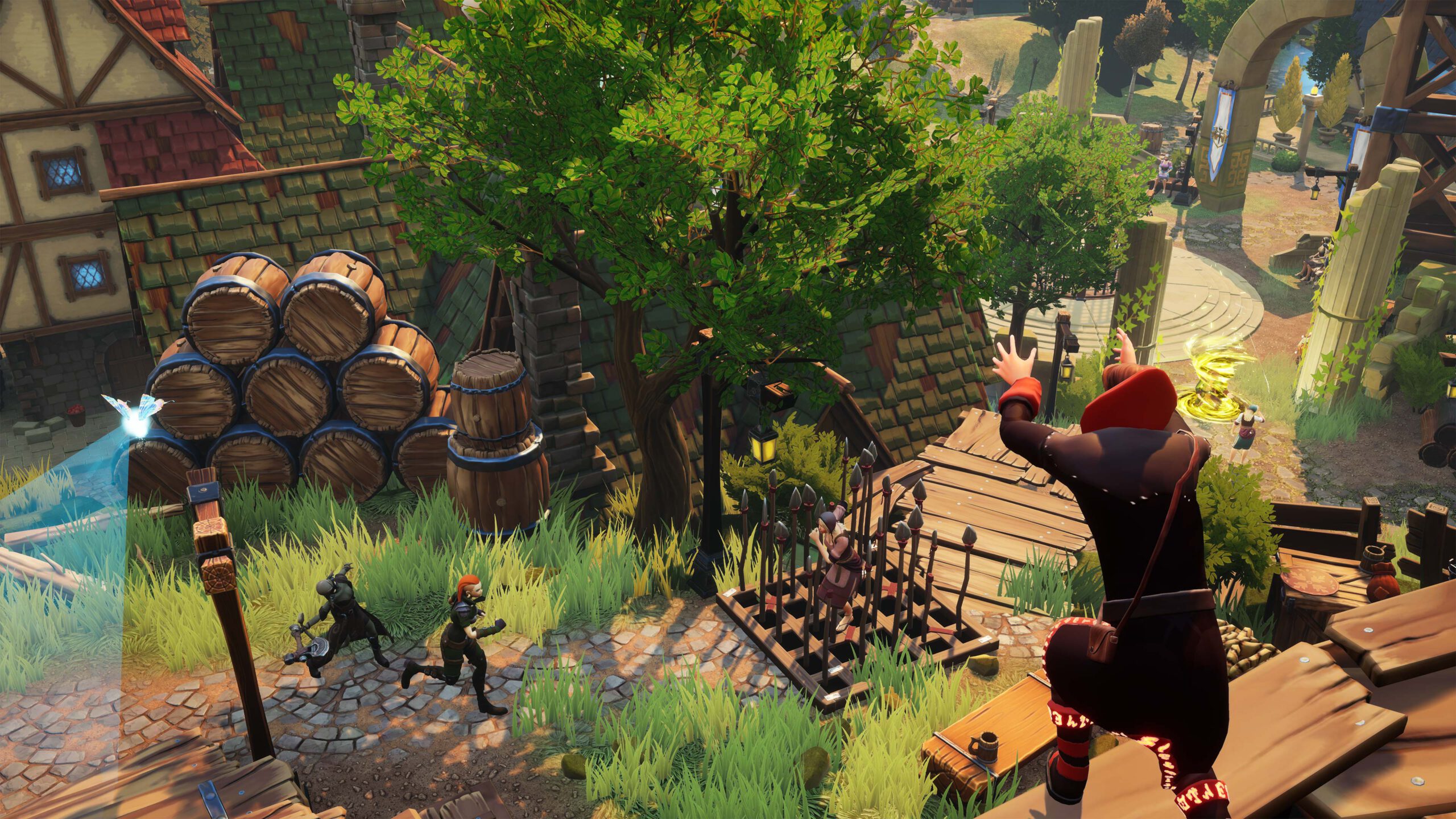 Synergy
Learn how other publishers and studios leverage Lurkit's services to increase reach, awareness, and sales while at the same time reducing their operational costs for their marketing and PR teams.